Very Cool!
I think most of the people who make voip call must have been known about Localphone from UK, the Rates is very cheap, quality is very good, I strongly recommend it if you are still looking for cheap and good quality international voip call. C
lick the below image to sign up:
For Students:
For others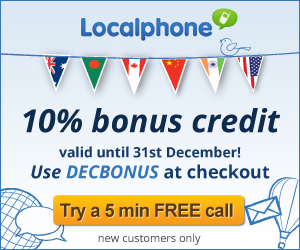 1. 100% extra free credit for students! This is an ongoing offer that gives students 100% extra credit on their first top up, to a maximum of $10. Students will need to register with their academic email address at www.localphone.com/students and they will email them the coupon code.
2. 10% bonus credit for new customers! This gives new customers 10% extra free credit on their first top up with Localphone. The code to use at checkout is JANBONUS10 and this expires 31st January 2012.
If you don't want to top up, you can also get a 5 minutes free call trial to see how's the quality there, you need to verify your phone first before using localphone, it is easy, and you will see in the process of using localphone. (Localphone offers promotion often with good cheapest rate and bonus.)
The call rates to our top countries:
India 1.5¢ / min
Bangladesh 3.5¢ / min
Nigeria 6.5¢ / min
Pakistan 2¢ / min
China 1¢ / min
United States 0.5¢ / min
United Kingdom 1¢ / min
Kenya 6.9¢ / min
Thailand 1.5¢ / min
Check the rate in others Countries here
, or compare the price here,
After sign up, you can make calls:
1. by download their PC soft to make international call
2. by web call back (Dial Online)
4. by call access number that assigned to the contact you add using your registered phone on Localphone.
5. by PIN call,for example:
first call access number Dial:001-213-550-1414
(this number can be change and get you own one in your Country when you login)
PIN: 7711 (for example)
If you call from a phone that's not registered, you'll need to enter account no: 4825077 (for example)
6. by Voip Device such as SIP client eyebeam, flaphone etc...
your SIP account can be found on "Internet Phone" when login, example:
How to find the SIP account? Login and click "internet phone", scroll down the page, and then you will see the SIP account.
7. COOL! Forward your SIP to the destination number such as the mobile phone or landline of your family or abroad friends. Then call the SIP like: 4222000@localphone.com
How to farward? Login and click "internet phone", scroll down the page, and then you will see "call forward" in the settings.
8. voicemail to your email.
9. you can call iNum and toll-free number FREE by using Localphone
Other pay services:
1. International SMS
2. Incoming calls by buy a virtual phone number worldwide for your love ones to call you from abroad by only paying local call.